Texas freeze: Joe Biden declares major disaster
124 total views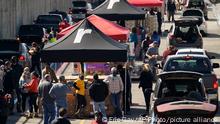 The declaration means that US President Joe Biden's administration can free up federal funding for snow-hit Texas. Residents in the southern state still face water shortages and widespread blackouts.
US President Joe Biden declared a major disaster for the state of Texas, the White House announced on Saturday, as residents continued to suffer from widespread power blackouts and water shortages.
Strong winter storms also hit Oklahoma and neighboring states over the past week, prompting an unusual deep freeze that has left at least 69 people dead across the country.
In Texas alone, at least 20 deaths have been blamed on the storm, while on Friday over half of the state's residents suffered disrupted water services.
DW News US correspondent Carolina Chimoy said, the situation in Texas has shifted from a power crisis to a food crisis amid rising temperatures.